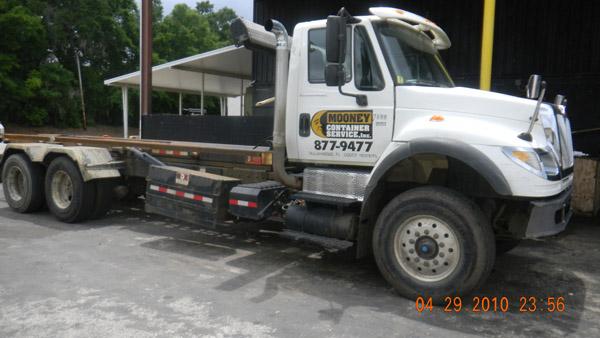 Mooney Container Service Tallahassee has waste containers, construction dumpsters, roll off trash containers and roll off dumpster rentals you need to do the job right since 2001. You fill – we haul! Same day Service.  We understand the importance of having having a waste container there when you need it and the importance of having it removed "quickly" when you are done.
                            *DUMPSTER SAME DAY SERVICE*
Mooney Container Service makes finding dumpsters, roll off dumpsters for rent  simple, reliable, and affordable. We specialize in helping homeowners, contractors, builders, and business owners rent roll off trash containers, construction dumpsters and roll off containers or waste containers.
Dumpsters, trash dumpsters, construction dumpsters, and roll off containers, are Mooney Container Service Tallahassee a primary business.  We offer fair and competitive rates for our waste dumpsters.  When renting roll off dumpsters, don't settle for the red tape, frustrating service delays, and high prices. Call us today. We make Estate Clean Ups a lot easier with roll off dumpsters.  For same day service, waste containers, roll off dumpsters and affordable prices, call Mooney Container Service today.
  HAVE DUMPSTER WILL TRAVEL!
Tallahassee offers Commercial Dumpsters and Residential Roll Off Containers and Waste Containers available when you need them.  You fill them and we take them away!
Commercial Waste Container –Roll Off Dumpster or Construction Dumpsters for construction debris, roofing materials, clean outs, industrial and non hazardous waste or all the same.  We will deliver the roll-off dumpster to your job site and when the dumpster is full we will come and haul it away.
Residential  Waste Containers, Roll Off Dumpsters great for yard debris, garage and basement clean outs, spring cleaning or home remodeling projects. If you demolish that old wood shed or tear off that old roof use our dumpsters to make your job easier.  You fill the waste container and we haul it away.  Time to clean out the garage or the back yard, just call us for a roll off container today.
Estate Clean Out – Make your job a bit easier with our dumpster rental.  If your estate clean out has reusable materials in them we will donate them to Christ Town Ministries and save them from some landfill fees.  We take blocks, bricks, broken concrete, carpet, construction debris, furniture, gravel,  metals and trees.  Just give us a quick call if you are not sure that we will take it.
Junk Removal Tallahassee – We have waste containers to remove all your junk or any debris except hazardous liquids.  Trees, bricks, stones, cement pieces, old bikes, skates, toys, clothers, wood, carpet, old furniture, metal and blocks, just give us a call to make your job easier.
Green Requirements – Mooney Container Service does recycle and can fulfill any green building requirements. We accommodate the removal of ANY debris except hazardous liquids.
We offer 10, 20, 30 and 40 yard dumpsters.  Call us we will advise you what you probably need.
                * ROLL OFF DUMPSTER SAME DAY SERVICE *
Mooney Container Service Tallahassee services Quincy and  strives to not only meet but, exceed your expectations with every dumpster that we rent. Whether you're renting a trash container for the first time or you're a contractor that rents multiple roll off dumpsters a week, you can count on Mooney Container Service of Tallahassee for fast, reliable, and affordable dumpster rental in Tallahassee, Florida.
Mooney Container Service
1112 Winifred Dr.
Tallahassee, FL
32308